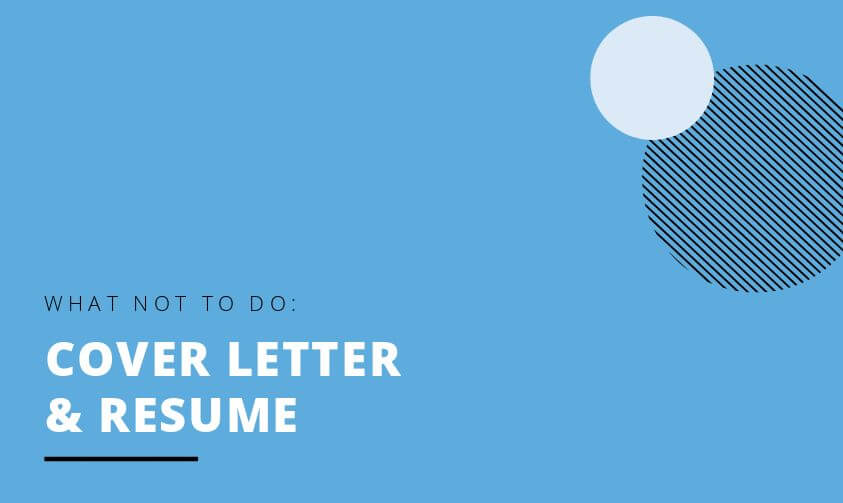 RESUMES: WHAT NOT TO DO!
At NOSH we get to see hundreds (if not thousands) of resumes of job hopefuls. We see great resumes and we also see some that are not so good. So, what do you do when the job you've been waiting for is advertised? Remember it's highly likely that the first (and possibly only) impression the recruiter or potential employer will have of you will be your cover letter and resume thus any innocuous mistakes, nerves or inexperience can spoil that all-important resume.
As we've said…we've seen it all and here are our top five mistakes that people make when creating resumes.
BAD GRAMMAR, TYPOS AND SLOPPY PRESENTATION
It goes without saying really – this is laziness and you won't get a second glance.
Read and re-read your resume carefully for sense, spelling and typos as well as running a standard spell and grammar check. Show your resume to a friend or someone you trust to read over and get them to highlight any mistakes. Look at your resume… is it "easy on the eye" and easy to follow. Consider sourcing some expert help putting your resume together if you're unsure – after all, you only get one chance to impress.
INAPPROPRIATE INFORMATION
Resumes are your chance to professionally introduce yourself to the recruiter or employer. Things you should include on your resume include the obvious details such as work history, job responsibilities and business experience, along with the skills and aptitude you've gained throughout your career and any education or training.
There are also things such as personal information that should not be considered during the recruitment process and therefore are unnecessary on a resume.
Marital, racial and religious status
Age – let the recruiter try and work it out from your career timeline
Private matters such as relationship and living arrangements
Anything other than professional and community achievements
Then there are the things that are irrelevant – your favourite colour, your pet's name or best memory or what your friends call you is of no interest to the recruiter when they consider you for a role.
OTT
Potential employers are interested in your skills, education and aptitude as their primary focus. Personal growth trajectory, personal visions and grand objectives are also good to know as they show who you are and what you want to and are realistically able to achieve.
World peace and slowing global warming, whilst noble enterprises, are unlikely to be part of your job requirement and probably outside your control. Wonderful as it might be, it is too far-fetched and shows you have great but potentially unobtainable ideas.
If you really want to give an indication of who you are, try a neat summary of your career, experience and business journey as a header for your resume.
CURRENT Employment
Unless your career move is planned, openly and positively discussed with your current employer, be discreet and careful in sharing any information about your current workplace and contact details. The last thing you want is an agency or potential employer contacting you at work, and your current boss finding out through the grapevine. Worse still, they may have a different opinion of your ability and performance, so be sure you know what your references might say.
Include only personal contact details in your resume, keeping private and business lives separate.
GIMMICKS
It doesn't matter how much you want the job, trying to grab the recruiter's attention by using over-the-top techniques just won't cut it in the world of hospitality. You need to catch the employer's or agency's eye for all the right reasons, and not the wrong ones.
Email addresses tell the recruiter more about you than you might think.  Immature or unprofessional email addresses (e.g. bigfellalovesbeer@email.com.au) does nothing to prove to the recruiter or employer you are serious or will bring the appropriate professionalism to the role. A simple email address (johnsmith@email.com) is far better and easier to remember.
Avoid the glitter, coloured paper, artsy graphics and photo-shopped portraits, please!
As your first impression upon the recruiter or potential employer, your resume sets the tone of any future conversation.  Create it correctly and you have the advantage – make mistakes and you are unlikely to be considered.
Now that your resume is up to scratch, why not apply with us today!!